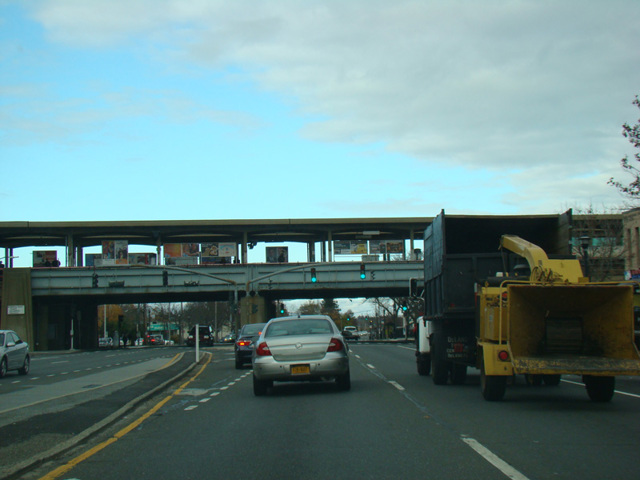 ---
Direction:

North/South

Southern Terminus:

Jerusalem Avenue (NY 105/Nassau CR 105) in North Bellmore

Northern Terminus:

Bay Avenue in Oyster Bay

Distance:

13.28 miles

Counties:

Nassau

Signed:

Yes
NY 106 begins as Newbridge Road at Jerusalem Avenue (NY 105/CR 105), just south of the Southern Parkway. It runs to the northeast until Hicksville, where it is multiplexed with NY 107 as Broadway. Broadway runs to the north and has interchanges with the Northern Parkway, the Long Island Expressway (I-495), and Jericho Turnpike (NY 25). Just north of Jericho Turnpike (NY 25), NY 106 and NY 107 split and NY 106 continues to the northeast as Jericho-Oyster Bay Road, a four-lane divided road. Just north of NY 25A, the divider ends and NY 106 becomes Pine Hollow Road, which goes into Oyster Bay. In Oyster Bay, NY 106 is called South Street. NY 106 ends in Oyster Bay.
Newbridge Road extends south of the current southern terminus of NY 106. Many years ago, NY 106 extended south along Newbridge Road to have its southern terminus at Merrick Road (Nassau CR 27). The section between Merrick Road and NY 105 has been decommissioned and is now an unnumbered county road.
---
Copyright © 2003-2021 by David Golub. All rights reserved. The author would like to thank William Roll for contributing photographs and LC for contributing documents to this web site. You may not reproduce any text or photographs on this web site without express permission from the author. Hotlinking of images from this site is strictly prohibited. Route symbols based on graphics from Central PA/MD Roads and Wikipedia. Map icons by MapGlyphs.com.