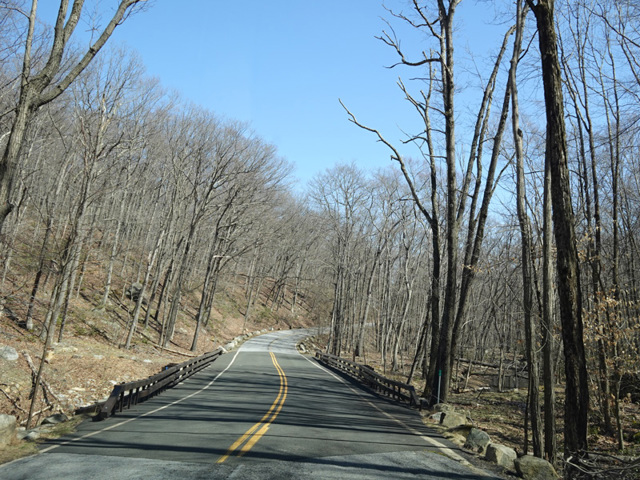 ---
Direction:

East/West

Western Terminus:

Seven Lakes Drive and Arden Valley Road at Tiorati Circle in Harriman State Park

Eastern Terminus:

Lake Welch Drive in Harriman State Park

Counties:

Orange, Rockland
Tiorati Brook Road is a short east/west route located in Harriman State Park. It begins at Tiorati Circle along Seven Lakes Drive by Lake Tiorati. It goes around the north and east sides of the lake before turning east to follow Lake Tiorati Brook. It merges into Lake Welch Drive right before its eastern terminus at the Palisades Parkway. The entire length is a two-lane undivided road.
Tiorati Brook Road is maintained by the Palisades Interstate Park Commission. Therefore, it has no route number, not even a reference route. However, it is signed (albeit sparsely) with the same style of parkway signage used for the other parkways in Harriman State Park.
---
Copyright © 2003-2021 by David Golub. All rights reserved. The author would like to thank William Roll for contributing photographs and LC for contributing documents to this web site. You may not reproduce any text or photographs on this web site without express permission from the author. Hotlinking of images from this site is strictly prohibited. Route symbols based on graphics from Central PA/MD Roads and Wikipedia. Map icons by MapGlyphs.com.