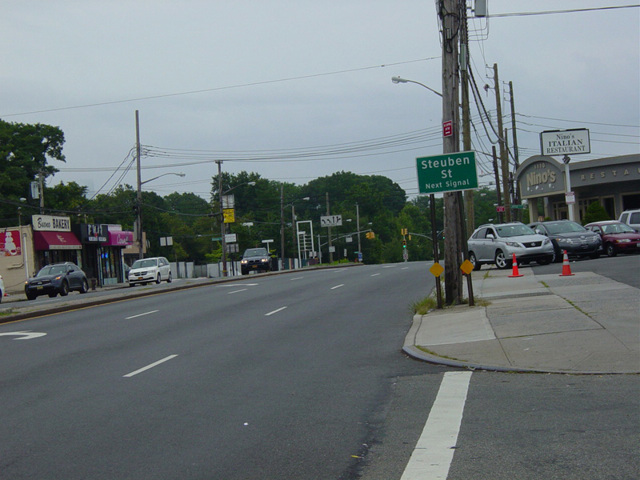 ---
Direction:

North/South

Southern Terminus:

Satterlee Street on Staten Island

Northern Terminus:

Bay Street on Staten Island

Distance:

14.06 miles

Counties:

Richmond
Hylan Boulevard is the longest street on Staten Island. It begins at Satterlee Street near Conference House Park at the southern tip of the island and extends north and east to Bay Street near the Verrazano Bridge (I-278). Hylan Boulevard is a four-lane road. Some portions are divided and others are undivided. Hylan Boulevard is split into two sections by the Staten Island Expressway (I-278). The two sections are connected by a one-block-long street called Olga Place. Southbound traffic that does not turn onto Olga Place is routed onto Steuben Street, which rejoins Hylan Boulevard a short distance to the south. Northbound traffic that does not turn off is routed onto the eastbound service road of the expressway.
Hylan Boulevard is named after John F. Hylan, who was a mayor of New York City.
---
Copyright © 2003-2022 by David Golub. All rights reserved. The author would like to thank William Roll for contributing photographs and LC for contributing documents to this web site. You may not reproduce any text or photographs on this web site without express permission from the author. Hotlinking of images from this site is strictly prohibited. Route symbols based on graphics from Central PA/MD Roads and Wikipedia. Map icons by MapGlyphs.com.