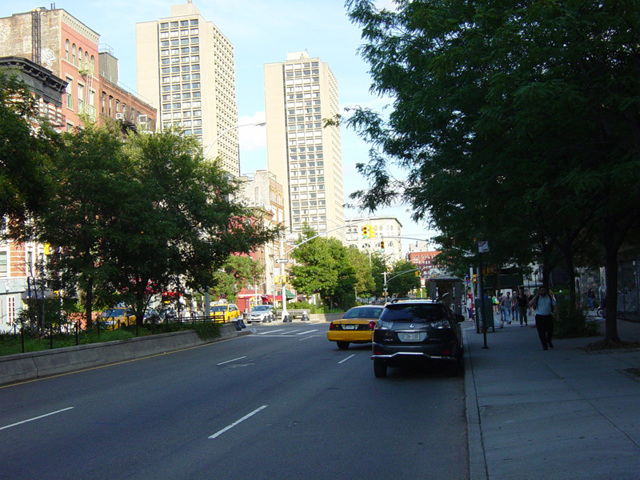 ---
Direction:

East/West

Western Terminus:

West Street (NY 9A) in Manhattan

Eastern Terminus:

FDR Drive in Manhattan

Distance:

2.02 miles

Counties:

New York
Houston Street is a major east/west street in Manhattan, passing through Greenwich Village and the Lower East Side. It is the dividing line between the named streets of Downtown Manhattan and the numbered street grid that exists in the rest of Manhattan. Therefore, it could be thought of as being the zero street in the street grid. Its name is pronounced as if it consisted of the words "house" and "ton." It is not pronounced like the city in Texas that is spelled the same way.
The street is marked on local street signs as West Houston Street from West Street (NY 9A) to Broadway and as East Houston Street from Broadway to the FDR Drive. This is different from most of Manhattan's numbered streets, which change name at 5 Avenue. However, 5 Avenue does not exist this far south, so Houston Street changes names at Broadway, as do the numbered local streets to its north. The signage on the FDR Drive is simply for Houston Street, without a compass direction.
Houston Street is a four-lane divided road with trees in the center for most of its length. The westernmost section, from 6 Avenue to West Street (NY 9A), is a westbound one-way street.
---
Copyright © 2003-2022 by David Golub. All rights reserved. The author would like to thank William Roll for contributing photographs and LC for contributing documents to this web site. You may not reproduce any text or photographs on this web site without express permission from the author. Hotlinking of images from this site is strictly prohibited. Route symbols based on graphics from Central PA/MD Roads and Wikipedia. Map icons by MapGlyphs.com.