4 Avenue begins at the
Belt Parkway
and Shore Road and runs north as a four-lane undivided road through the Bay Ridge area of Brooklyn. There are traffic lights with oversized street name signs at 100 Street, 99 Street, Marine Avenue, 97 Street, 96 Street, and 95 Street.
Photos taken March 2013.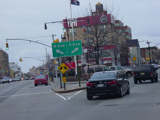 Just north of 95 Street, the road splits. Bear right for 5 Avenue, which begins here. Bear left to stay on 4 Avenue.
Photo taken March 2013.
Skipping a few miles to the north, 4 Avenue runs north through Brooklyn as a four-lane divided road. There are oversized street name signs at 1 Street, Garfield Place, Carroll Street, President Street, Union Street, Sackett Street, Degraw Street, Douglass Street, Butler Street, Baltic Street, Warren Street, Saint Marks Place, Bergen Street, Dean Street, and Pacific Street. The Williamsburg Savings Bank is visible in the distance.
Photos taken July–August 2008.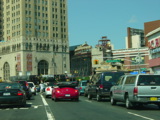 ---