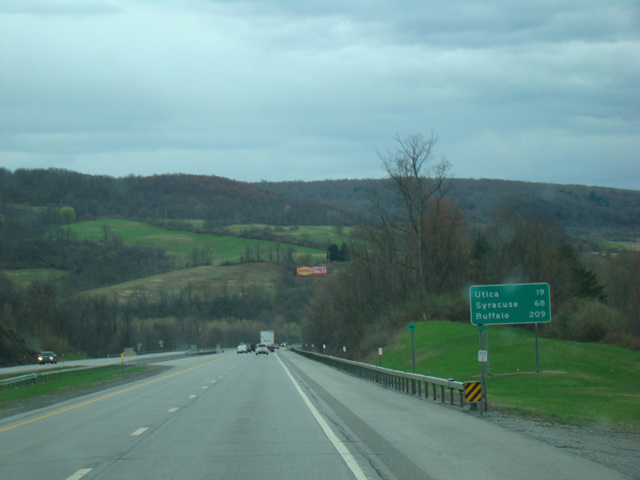 ---
Direction:

East/West

Western Terminus:

Pennsylvania-New York state line

Eastern Terminus:

New York-Massachusetts state line

Distance:

386.69 miles

Counties:

Chautauqua, Erie, Genesee, Monroe, Ontario, Seneca, Cayuga, Onondaga, Madison, Oneida, Herkimer, Montgomery, Schenectady, Albany, Rensselaer, Columbia

Signed:

Yes
I-90 is the longest interstate is the country, extending from Seattle, WA, all the way to Boston, MA. For most of its length in New York, I-90 follows the New York Thruway, the state's main toll highway and the longest toll highway in the country. The Thruway begins at the border with Pennsylvania where I-90 enters the state. It is one of the few east/west highways where the exit numbers decrease rather than increase from east to west, beginning at 61 near the state line. The Thruway runs northeast along Lake Erie to the suburbs of Buffalo and then turns to the east and crosses the state, passing through or near Rochester, Syracuse, Utica, and Albany.
At exit 24 of the Thruway in Albany, there is a somewhat confusing interchange where the Thruway curves to the south toward New York City and changes designation to become I-87 while continuing the same exit numbering scheme. Here, eastbound traffic must use exit 24 to stay on I-90. There is a short free section of I-90 with no name that passes through Albany and its suburbs. It has its own exit numbering scheme, beginning with exit 1 in Albany and increasing to the east.
The free section of I-90 ends at an extension of the Thruway known as the Berkshire Connector or the Berkshire Spur, which extends from exit 21A of the mainline of Thruway to the Massachusetts border. I-90 follows the Berkshire Connector from the end of the free section to the state line, where it becomes the Massachusetts Turnpike. The Berkshire Connector has its own exit numbering scheme, with three exits, exit B1, exit B2, and exit B3, from east to west. At another confusing interchange, westbound traffic must use exit B1 to stay on I-90 rather than continuing west along the Berkshire Connector to the mainline, I-87. The section of the Berkshire Connector between I-87 and I-90 has no signed designation and a reference route of 912M.
---
Copyright © 2003-2022 by David Golub. All rights reserved. The author would like to thank William Roll for contributing photographs and LC for contributing documents to this web site. You may not reproduce any text or photographs on this web site without express permission from the author. Hotlinking of images from this site is strictly prohibited. Route symbols based on graphics from Central PA/MD Roads and Wikipedia. Map icons by MapGlyphs.com.