Holland Tunnel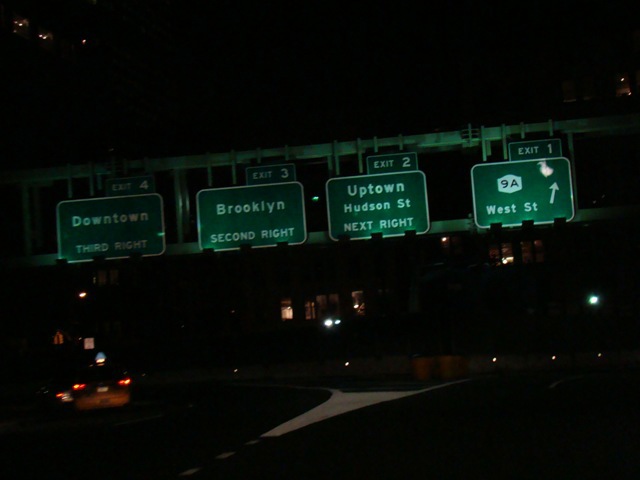 ---
Direction:

East/West

Western Terminus:

New York-New Jersey state line

Eastern Terminus:

Canal Street in Manhattan

Distance:

0.50 miles

Counties:

New York

Signed:

Yes
I-78 was proposed to run through Manhattan, Brooklyn, Queens, and the Bronx, serving as a major highway in New York City. It would have entered New York from New Jersey at the Holland Tunnel and then crossed Manhattan as a highway called the Lower Manhattan Expressway. This highway would have ended at the Williamsburg Bridge. On the other side of the bridge in Brooklyn, I-78 would have been called the Bushwick Expressway. This section would have roughly followed the route of Bushwick Avenue, North Conduit Avenue, and South Conduit Avenue into Queens. At the Belt Parkway, the Bushwick Expressway would have changed names to become the Nassau Expressway, running parallel to and just south of the parkway in the vicinity of Kennedy Airport. East of the airport, I-78 would have split off of the Nassau Expressway and ran north through Queens as the Clearview Expressway. (The Nassau Expressway would have continued southeast toward the Atlantic Beach Bridge as I-878.) The Clearview Expressway would have led to the Throgs Neck Bridge. On the other side of the bridge in the Bronx, I-78 would have ended at the Bruckner Interchange, where I-95, I-295, I-278, I-678, and the Hutchinson Parkway all meet.
For all the plans that were made for I-78, very little was actually constructed. I-78 enters New York through the Holland Tunnel and then immediately ends in Manhattan. At the eastern terminus, there are five exits leading to different roads in Manhattan. Two other sections of the proposed I-78 were constructed, but they carry other designations. A portion of the Nassau Expressway in Queens was constructed and is designated NY 878. The Clearview Expressway and the Throgs Neck Bridge were built and carry the designation of I-295 from Hillside Avenue (NY 25) in Queens to the Bruckner Interchange in the Bronx. The Williamsburg Bridge was a pre-existing bridge from Manhattan to Brooklyn that would have been incorporated into I-78. It currently exists with no numerical designation.
There are four other highways, I-278, I-478, I-678, and NY 878, which are numbered as spurs of I-78. Since most of the proposed I-78 was never built, none of these highways intersect the actual I-78, although they all would have I-78 had been built as planned.
Photo Gallery
Exit List
Map
---