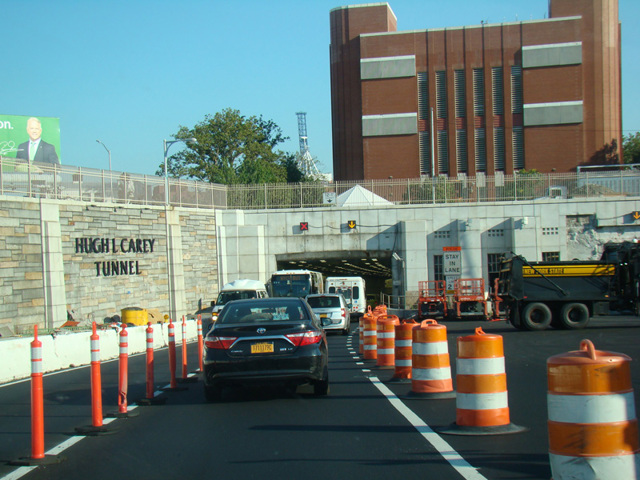 ---
Direction:

North/South

Southern Terminus:

Brooklyn-Queens Expressway (I-278) in Brooklyn

Northern Terminus:

West Street (NY 9A) in Manhattan

Distance:

2.14 miles

Counties:

Kings, New York

Signed:

No
The Hugh L. Carey Tunnel is the southernmost crossing of the East River, connecting Brooklyn and Manhattan. It connects to the Brooklyn-Queens Expressway (I-278) on the Brooklyn side. On the Manhattan side, the tunnel ends at West Street (NY 9A) near Battery Park and the southern terminus of the FDR Drive. The tunnel carries the designation of I-478, although there are no signs giving the route number.
The Hugh L. Carey Tunnel was originally known as the Battery Tunnel. In 2012, it was renamed after Hugh L. Carey, who was a governor of New York State.
---
Copyright © 2003-2022 by David Golub. All rights reserved. The author would like to thank William Roll for contributing photographs and LC for contributing documents to this web site. You may not reproduce any text or photographs on this web site without express permission from the author. Hotlinking of images from this site is strictly prohibited. Route symbols based on graphics from Central PA/MD Roads and Wikipedia. Map icons by MapGlyphs.com.