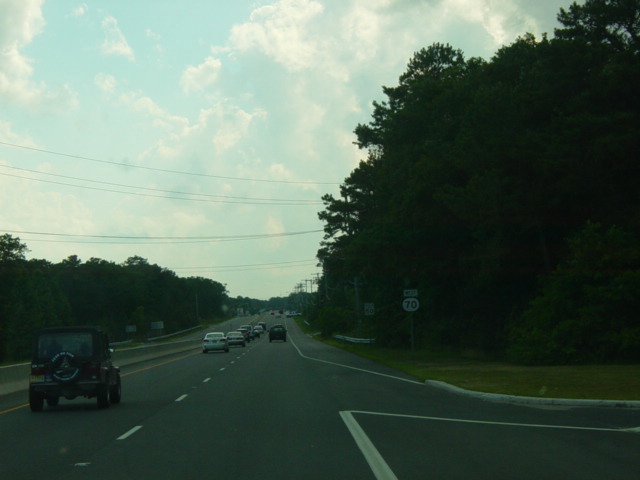 ---
Direction:

East/West

Western Terminus:

Kaighns Avenue (NJ 38) in Pennsauken

Eastern Terminus:

NJ 34 and NJ 35 in Wall

Distance:

59.84 miles

Counties:

Camden, Burlington, Ocean, Monmouth

Signed:

Yes
NJ 70 is an east/west route crossing New Jersey from the suburbs of Philadelphia to the Jersey Shore. It begins at Kaighns Avenue (NJ 38) in Pennsauken, just west of its eastern terminus at US 30 and US 130. The westernmost section of NJ 70 is known as Marlton Pike. It extends east through Cherry Hill to the Camden Freeway (I-295), with which it has an interchange. It passes over the New Jersey Turnpike (NJ 700), but there is no entrance or exit. Continuing west across New Jersey, NJ 70 loses its name and becomes known solely by its number. Eventually, it curves to the northeast. It meets US 9 at a grade-separated interchange and has an interchange just over a mile later with the Garden State Parkway (NJ 444). It passes through Brick and ends at NJ 34 and NJ 35 in Wall.
In the Philadelphia suburbs of Pennsauken and Cherry Hill, as well as in Brick and Wall on the Jersey Shore, NJ 70 is a four- to six-lane divided highway with jughandles and some grade-separated interchanges. The section in between, which passes through more rural areas, is mostly a two-lane undivided road.
---
Copyright © 2003-2022 by David Golub. All rights reserved. The author would like to thank William Roll for contributing photographs and LC for contributing documents to this web site. You may not reproduce any text or photographs on this web site without express permission from the author. Hotlinking of images from this site is strictly prohibited. Route symbols based on graphics from Central PA/MD Roads and Wikipedia. Map icons by MapGlyphs.com.