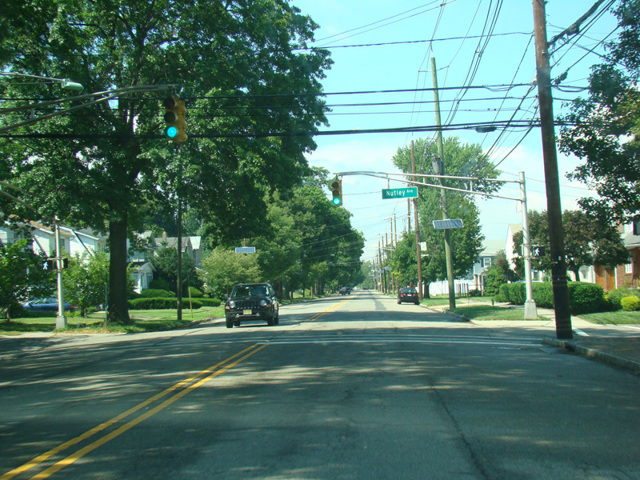 ---
Direction:

North/South

Southern Terminus:

Pulaski Skyway (NJ 7) in Jersey City

Northern Terminus:

NJ 3 in Clifton

Distance:

10.16 miles

Counties:

Hudson, Essex, Passaic

Signed:

Yes
NJ 7 is an L-shaped route from Jersey City to Clifton. It is officially designated a north/south route, but the southern half of it is signed as an east/west route. It begins at the Pulaski Skyway (US 1/US 9) in Jersey City and crosses Wittpenn Bridge over the Hackensack River to Kearny. There, the roadway splits. Newark-Jersey City Turnpike (CR 508) begins at this split, and NJ 7 curves to the northeast to become a two-lane road called Belleville Turnpike. After a few miles, it crosses the Passaic River to Belleville, where it changes names to become Rutgers Street. After a few blocks, NJ 7 turns north onto Washington Avenue, which it follows north to Clifton. There, Washington Avenue ends, and NJ 7 turns west onto Kingsland Street for a few blocks and then north onto Cathedral Avenue, which changes names to become Passaic Avenue. NJ 7 ends at NJ 3 in Clifton.
While Rutgers Street and Passaic Avenue are signed as part of NJ 7, they are not officially designated as part of NJ 7 in state documents.
---
Copyright © 2003-2022 by David Golub. All rights reserved. The author would like to thank William Roll for contributing photographs and LC for contributing documents to this web site. You may not reproduce any text or photographs on this web site without express permission from the author. Hotlinking of images from this site is strictly prohibited. Route symbols based on graphics from Central PA/MD Roads and Wikipedia. Map icons by MapGlyphs.com.