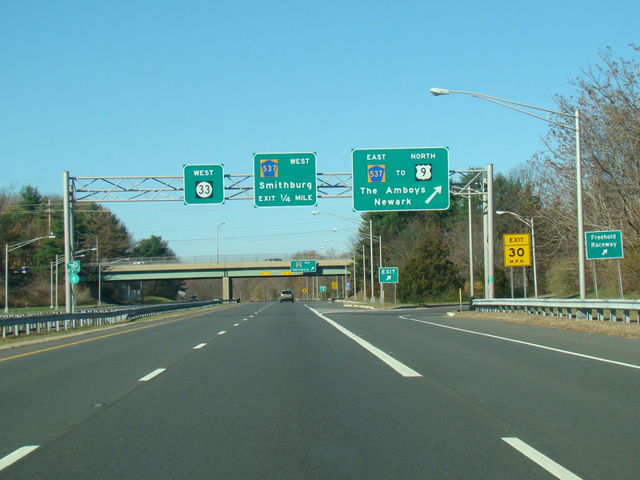 ---
Direction:

East/West

Western Terminus:

Trenton Freeway (US 1) in Trenton

Eastern Terminus:

Main Street (NJ 71) in Neptune

Distance:

42.03 miles

Counties:

Mercer, Middlesex, Monmouth

Signed:

Yes
NJ 33 is an east/west crossing New Jersey near the center of the state. It begins at the Trenton Freeway (US 1) in Trenton. The first section is a two-lane undivided road called Greenwood Avenue that runs northeast for a couple of miles before ending at and merging with Nottingham Way. NJ 33 continues east along Nottingham Way, a four-lane undivided road, having an interchange with the Camden Freeway (I-295). A few blocks east of the highway, NJ 33 splits off from Nottingham Way and runs southeast for several miles to US 130.
NJ 33 is multiplexed with US 130 for several miles to the northeast to East Windsor and then splits off onto Mercer Street, a two-lane road that it follows to Hightstown, where it is multiplexed with CR 539 along Main Street for a couple of blocks to the north and then turns east onto Franklin Street. There is an interchange with the Hightstown Bypass (NJ 133) and the New Jersey Turnpike (I-95). At the interchange, NJ 33 widens to become a four-lane divided highway with jughandles at many of its intersections. In Freehold, NJ 33 becomes a short expressway called the Freehold Bypass for a few miles. In this area, there is a business route along Park Avenue through Freehold. At the end of the Freehold Bypass, NJ 33 and Business NJ 33 merge together to become a two-lane undivided road again. It continues east to Wall, where it is multiplexed with NJ 34 for about half a mile. East of the multiplex, it widens to four lanes again and there are interchanges with the Garden State Parkway (NJ 444) and the Monmouth Freeway (NJ 18). In this area, it is known as Corlies Avenue. It ends at Main Street (NJ 71) in Neptune.
---
Copyright © 2003-2022 by David Golub. All rights reserved. The author would like to thank William Roll for contributing photographs and LC for contributing documents to this web site. You may not reproduce any text or photographs on this web site without express permission from the author. Hotlinking of images from this site is strictly prohibited. Route symbols based on graphics from Central PA/MD Roads and Wikipedia. Map icons by MapGlyphs.com.