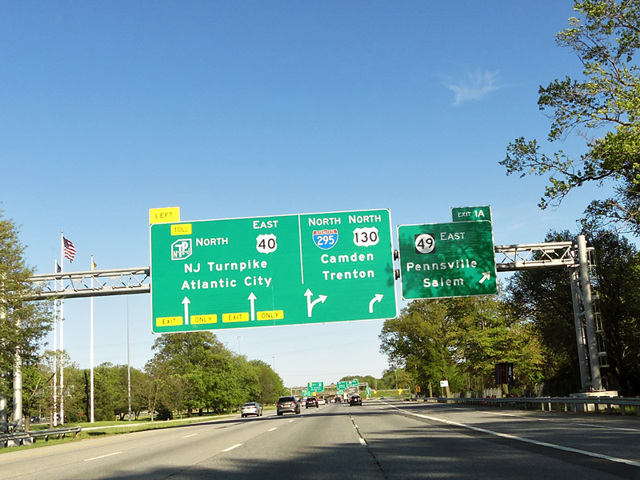 ---
Direction:

North/South

Southern Terminus:

Delaware Memorial Bridge at the Delaware-New Jersey state line

Northern Terminus:

New Jersey-Pennsylvania state line

Distance:

76.56 miles

Counties:

Salem, Gloucester, Camden, Burlington, Mercer

Signed:

Yes
I-295 is a north/south route in southern New Jersey. It enters New Jersey from Delaware via the Delaware Memorial Bridge, a suspension bridge over the Delaware River. The New Jersey Turnpike (NJ 700) begins at I-295 on the New Jersey side of the bridge. I-295 runs north, parallel to the turnpike, providing an alternate route for local traffic. This section is called the Camden Freeway. It eventually loops around Trenton and back to the south, crossing the Delaware River into Pennsylvania via the Scudders Falls Bridge.
Until 2018, there was no interchange between the Delaware Expressway and the Pennsylvania Turnpike. Prior to the opening of the interchange that exists today, I-95 continued north along the entire length of the Delaware Expressway and into New Jersey. I-295 turned into I-95 at its interchange with Brunswick Pike (US 1). The I-295 designation has since been extended along what was once I-95 into Pennsylvania.
Photo Gallery
Exit List
Map
---
Copyright © 2003-2021 by David Golub. All rights reserved. The author would like to thank William Roll for contributing photographs and LC for contributing documents to this web site. You may not reproduce any text or photographs on this web site without express permission from the author. Hotlinking of images from this site is strictly prohibited. Route symbols based on graphics from Central PA/MD Roads and Wikipedia. Map icons by MapGlyphs.com.