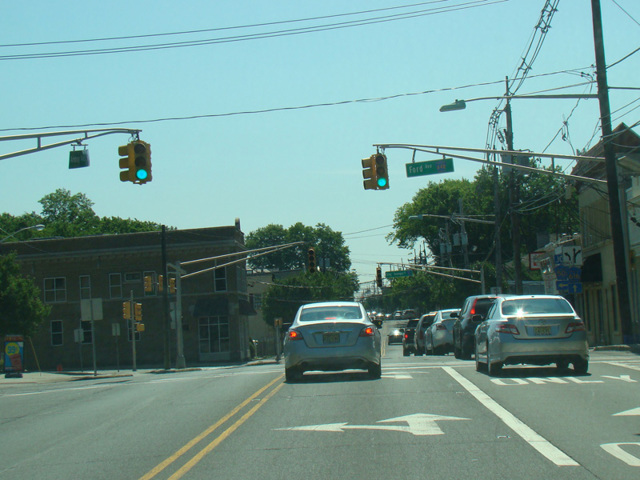 ---
Direction:

East/West

Western Terminus:

Stelton Road (CR 529) in Piscataway

Eastern Terminus:

King Georges Road (NJ 184) in Woodbridge

Distance:

6.99 miles

Counties:

Middlesex

Signed:

Yes
CR 501 is a short east/west route extending from Piscataway to Woodbridge. It begins at Stelton Road (CR 529) and runs east along New Durham Road to Metuchen, where it turns northeast onto Middlesex Avenue, which is follows for a few blocks to NJ 27. It is multiplexed with NJ 27 south for a few blocks and then turns east again onto Amboy Avenue. It follows Amboy Avenue east to Fords, where it turns northeast onto King Georges Road. After about a quarter of a mile, King Georges Road widens to become a four-lane divided highway and changes designation to become NJ 184.
There is a second section of CR 501 that begins at NJ 440 just north of the Bayonne Bridge and extends north to the New York border. The two sections are connected by NJ 184, NJ 440, and NY 440. However, CR 501 is not continuous because Staten Island is part of New York, which does not recognize 500 series county routes. (In fact, New York City doesn't have any county routes at all.) While both sections are listed as north/south routes in state documents for consistency, the southern section actually runs east and west and is signed as an east/west route, making it an exception to the rule that odd-numbered 500 series routes are north/south routes.
---
Copyright © 2003-2021 by David Golub. All rights reserved. The author would like to thank William Roll for contributing photographs and LC for contributing documents to this web site. You may not reproduce any text or photographs on this web site without express permission from the author. Hotlinking of images from this site is strictly prohibited. Route symbols based on graphics from Central PA/MD Roads and Wikipedia. Map icons by MapGlyphs.com.