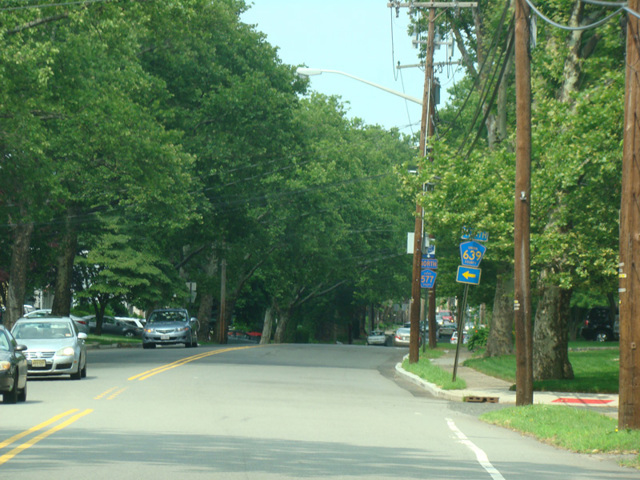 ---
Direction:

North/South

Southern Terminus:

Springfield Avenue (CR 509) and Kenilworth Boulevard (CR 509) in Westfield

Northern Terminus:

Bloomfield Avenue (CR 506) and Pompton Avenue (NJ 23) in Verona

Distance:

12.94 miles

Counties:

Union, Essex

Signed:

Yes
CR 577 is a north/south route extending from Westfield to Verona. It begins at the point where CR 509 turns from Springfield Avenue onto Kenilworth Boulevard and runs north along Springfield Avenue, passing US 22 at a grade-separated interchange. A short distance to the north in Springfield, Springfield Avenue splits off to become a local street, and CR 577 changes names to become Meisel Avenue. Just south of I-78, Meisel Avenue ends at the point where NJ 82 has its western terminus at NJ 124. CR 577 is routed along NJ 124 through this interchange and then splits off onto Main Street.
About half a mile to the north, in Millburn, CR 577 turns east onto Millburn Avenue and then north again onto Wyoming Avenue, which it follows to South Orange. There is multiplexed with CR 510 along South Orange Avenue for one block to the east before turning north again onto North Wyoming Avenue. In West Orange, North Wyoming Avenue becomes Gregory Avenue, which ends at Mount Pleasant Avenue. CR 577 follows Mount Pleasant Avenue for about half a mile to the west and then turns north onto Prospect Avenue, which runs north to Verona, crossing the Essex Freeway (I-280). In Verona, CR 577 ends at Bloomfield Avenue (CR 506). Prospect Avenue changes names to become Pompton Avenue and changes designation to become NJ 23.
---
Copyright © 2003-2021 by David Golub. All rights reserved. The author would like to thank William Roll for contributing photographs and LC for contributing documents to this web site. You may not reproduce any text or photographs on this web site without express permission from the author. Hotlinking of images from this site is strictly prohibited. Route symbols based on graphics from Central PA/MD Roads and Wikipedia. Map icons by MapGlyphs.com.