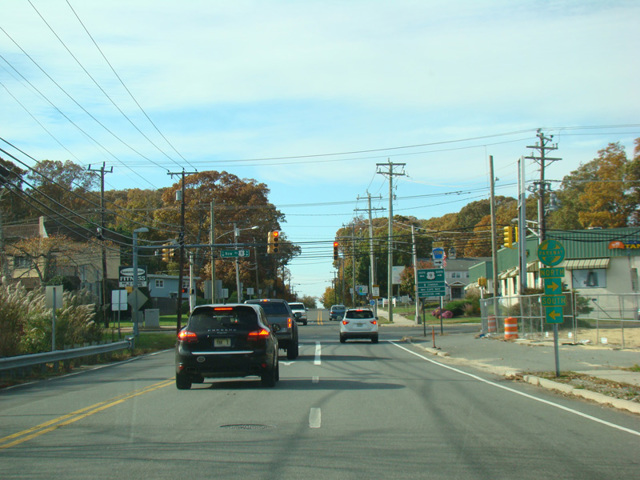 ---
Direction:

North/South

Southern Terminus:

Shore Road (CR 585) and MacArthur Boulevard (NJ 52) in Somers Point

Northern Terminus:

Egg Harbor Road (CR 561) in Hammonton

Distance:

30.84 miles

Counties:

Atlantic

Signed:

Yes
CR 559 is a north/south route running diagonally from Somers Point through Mays Landing to Hammonton. Shore Road (CR 585) turns into CR 559 at its intersection with MacArthur Boulevard (NJ 52) in Somers Point. It is at first called Mays Landing Road but almost immediately changes names to become Somers Point-Mays Landing Road. As its name suggests, it ends northwest to Mays Landing, where it ends at Main Street (US 40). The two routes are multiplexed for a few blocks, and then US 40 turns south onto Harding Highway. CR 559 continues west along Main Street before curving to the south to become Mill Street and then turning west onto Old Harding Highway. After a few blocks, CR 559 turns northwest onto Weymouth Road. It follows Weymouth Road to Hammonton, where it changes names to become South Chew Road and then North Chew Road before ending at Egg Harbor Road (CR 561). The entire length is a two-lane undivided road.
CR 559 has an alternate route that splits off in Hamilton Township and follows Ocean Heights Avenue to Shore Road (CR 585) in Linwood.
---
Copyright © 2003-2021 by David Golub. All rights reserved. The author would like to thank William Roll for contributing photographs and LC for contributing documents to this web site. You may not reproduce any text or photographs on this web site without express permission from the author. Hotlinking of images from this site is strictly prohibited. Route symbols based on graphics from Central PA/MD Roads and Wikipedia. Map icons by MapGlyphs.com.