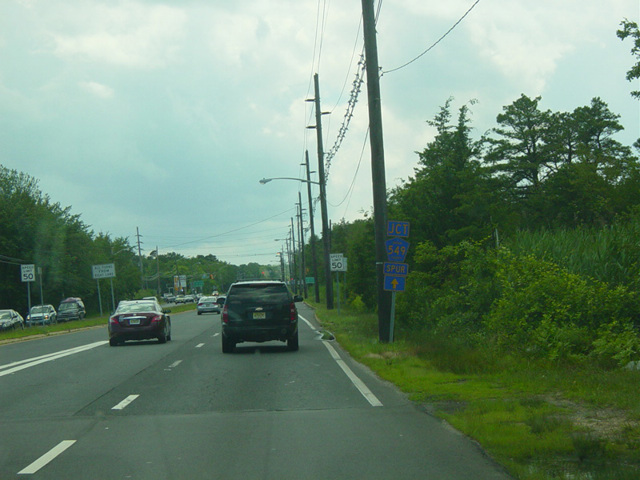 ---
Direction:

North/South

Southern Terminus:

Main Street (NJ 166) in Toms River

Northern Terminus:

Lakewood-Farmingdale Road (CR 547) in Howell

Distance:

17.82 miles

Counties:

Ocean, Monmouth

Signed:

Yes
CR 549 is a major north/south route on the Jersey Shore, extending from Toms River to Howell. It begins at Main Street (NJ 166) in Toms River and runs east along Water Street for a few blocks before turning north onto Hooper Avenue. It runs north as to Brick, where Hooper Avenue splits off to become CR 631. CR 549 continues north as Brick Boulevard. After about two miles, it turns onto Chambers Bridge Road, which runs northwest to the Garden State Parkway (NJ 444). Just past the parkway, it intersects Ocean Avenue (NJ 88) and changes names to become Lanes Mill Road. After about a mile, it crosses the parkway again. Lanes Mill Road is split into two noncontiguous sections by the parkway at this point, so CR 549 uses Burnt Tavern Road to cross it and connect between the two sections. A few blocks past the parkway, CR 549 turns onto Sally Ike Road, which ends after about a mile at Herbertsville Road. CR 549 turns to the northwest onto Herbertsville Road. It crosses the parkway again, but this time there is no interchange. It ends at Lakewood-Farmingdale Road (CR 547) in Howell, just south of the Central Jersey Expressway (I-195). Most of CR 549 is a four- to six-lane road, which the exception of the portion north of the parkway interchange with Burnt Tavern Road. Much of it is divided.
CR 549 has two spur routes. The first is a 3.97-mile spur along Herbertsville Road to NJ 88 in Point Pleasant. The second is a 4.09-mile spur along Fischer Boulevard to NJ 37 in Toms River.
---
Copyright © 2003-2021 by David Golub. All rights reserved. The author would like to thank William Roll for contributing photographs and LC for contributing documents to this web site. You may not reproduce any text or photographs on this web site without express permission from the author. Hotlinking of images from this site is strictly prohibited. Route symbols based on graphics from Central PA/MD Roads and Wikipedia. Map icons by MapGlyphs.com.