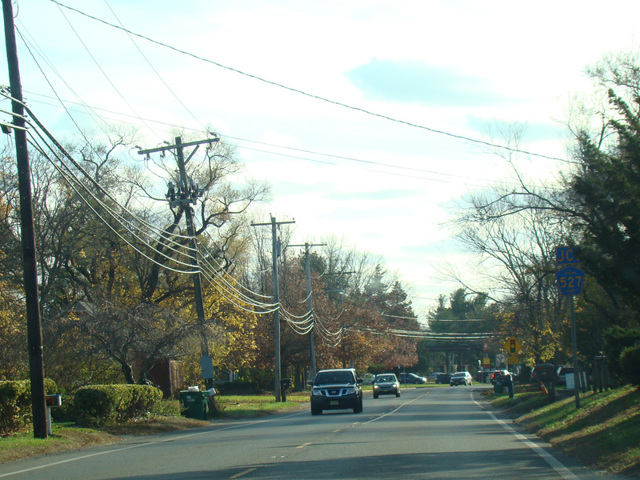 ---
Direction:

North/South

Southern Terminus:

NJ 70 in Lakehurst

Northern Terminus:

Broad Street (NJ 71/CR 537) in Eatontown

Distance:

28.29 miles

Counties:

Ocean, Monmouth

Signed:

Yes
CR 547 is a north/south route that runs inland near the Jersey Shore. It begins at NJ 70 in Lakehurst, just west of the western terminus of NJ 37, and runs north along Center Street and South Hope Chapel Road to East Veterans Highway (CR 528) in Jackson. From there, it is multiplexed with CR 528 east to Lakewood and then with US 9 north along Madison Avenue. After following US 9 for a little over half a mile, it turns east onto Ninth Street, which ends after a few blocks at Squankum Road. CR 547 turns northeast onto Squankum Road, which eventually becomes Lakewood-Farmingdale Road and then Main Street in Farmingdale. There, CR 547 turns onto Asbury Avenue, which becomes Asbury Road upon leaving Farmingdale. It runs northeast and then east to the traffic circle at the eastern end of the NJ 33/NJ 34 multiplex. It is multiplexed with NJ 33 for one block and then turns north onto Shafto Road, which runs northeast to Eatontown and changes names to become Wyckoff Road. It ends at Broad Street (NJ 71/CR 547) in Eatontown.
There is also a section of Wyckoff Road that exists across NJ 33 from Shafto Road and extends south a short distance to NJ 34. It is designated CR 547 despite the fact that motorists following the main route of CR 547 will not travel along it. It is shown in county documents but not state documents and signed on the traffic light at NJ 33 but not at NJ 34.
---
Copyright © 2003-2021 by David Golub. All rights reserved. The author would like to thank William Roll for contributing photographs and LC for contributing documents to this web site. You may not reproduce any text or photographs on this web site without express permission from the author. Hotlinking of images from this site is strictly prohibited. Route symbols based on graphics from Central PA/MD Roads and Wikipedia. Map icons by MapGlyphs.com.