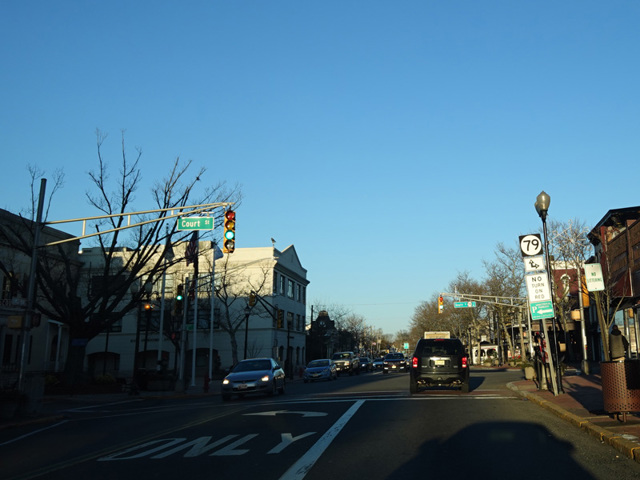 ---
Direction:

North/South

Southern Terminus:

Delaware Avenue (Camden CR 737) in Camden

Northern Terminus:

Myrtle Avenue (Monmouth CR 29) in West Long Branch

Distance:

67.91 miles

Counties:

Camden, Burlington, Ocean, Monmouth

Signed:

Yes
CR 537 is a north/south route running diagonally across New Jersey from Camden to West Long Branch. It begins at Delaware Avenue near the Delaware River in Camden. The first section is a two-lane east/west street called Federal Street that extends east to Crescent Boulevard (US 130) in Pennsauken. There is an overpass across US 130. CR 537 continues on the other side along Maple Avenue. Continuing east, it changes names to become Main Street and then Camden Avenue. In Moorestown, Camden Avenue merges with Kings Highway (NJ 41) to become Main Street. The NJ 41 designation ends at this point. Leaving Moorestown, CR 537 becomes known as Marne Highway. It passes under the Camden Freeway (I-295) and the New Jersey Turnpike (I-295), but there is no interchange with either.
In Mount Laurel, Marne Highway changes names to become Washington Street and then Mill Street. CR 537 turns northeast onto Branch Street, which after a few blocks merges into Garden Street. After another couple of blocks, Garden Street changes names to become Monmouth Road. Monmouth Road runs northeast all the way to Freehold, where is changes names to become West Main Street and then East Main Street. CR 537 is multiplexed with NJ 79 for a couple of blocks in Freehold. Heading out of town, East Main Street becomes Colts Neck Road. There is an interchange with the Monmouth Freeway (NJ 18). CR 537 loses its names and runs east through Colts Neck to Tinton Avenue in Tinton Falls. It turns south onto Tinton Avenue. It crosses the Garden State Parkway (NJ 444), but there is no interchange. Tinton Avenue ends at NJ 35. CR 537 is routed south along NJ 35 for a few blocks and then east along NJ 71. It splits off from NJ 71 and follows Eatontown Boulevard and Broadway east to its northern terminus at Myrtle Avenue in West Long Branch.
---
Copyright © 2003-2022 by David Golub. All rights reserved. The author would like to thank William Roll for contributing photographs and LC for contributing documents to this web site. You may not reproduce any text or photographs on this web site without express permission from the author. Hotlinking of images from this site is strictly prohibited. Route symbols based on graphics from Central PA/MD Roads and Wikipedia. Map icons by MapGlyphs.com.