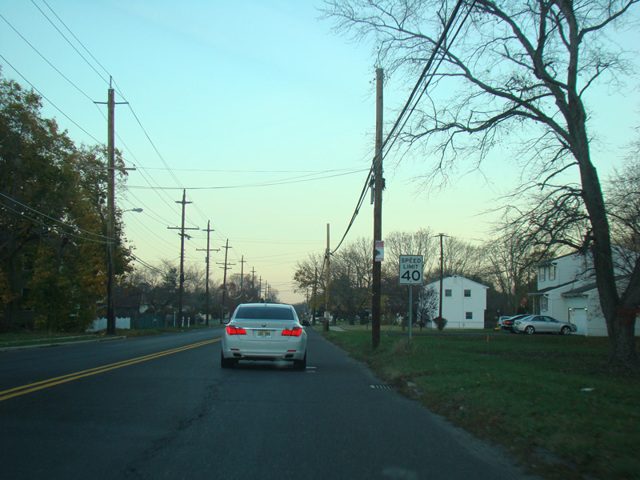 ---
Direction:

East/West

Western Terminus:

New Jersey-Pennsylvania state line

Eastern Terminus:

US 206 in Hammonton

Distance:

38.52 miles

Counties:

Gloucester, Camden, Atlantic

Signed:

Yes
CR 536 is an east/west route in South Jersey. It begins at the New Jersey-Pennsylvania state line halfway across the Commodore Barry Bridge and is multiplexed with US 322 for about half of its length until Williamstown. There, it splits off, turning south onto Main Street and then east onto New Brooklyn Road. After a couple of miles, New Brooklyn Road ends at Malaga Road, which CR 536 follows north across the Atlantic City Expressway (NJ 446), although there is no interchange. Malaga Road ends just north of the expressway at Cedarbrook Road, onto which CR 536 turns east. After a little over a mile, Cedarbrook Road merges into NJ 73. The two routes are multiplexed for one block, and then CR 536 turns east again onto Pump Branch Road. After a mile, Pump Branch Road ends at White Horse Pike (US 30), and there is another one-block multiplex. CR 536 then turns east onto Pennington Avenue, which becomes Chew Road. It ends at US 206 in Hammonton.
CR 536 has a 7.57-mile spur route along Sicklerville Road, Williamstown-New Freedom Road, West Taunton Road, and East Taunton Road from Black Horse Pike (US 322/NJ 42) in Williamstown to White Horse Pike (US 30) in Waterford.
---
Copyright © 2003-2021 by David Golub. All rights reserved. The author would like to thank William Roll for contributing photographs and LC for contributing documents to this web site. You may not reproduce any text or photographs on this web site without express permission from the author. Hotlinking of images from this site is strictly prohibited. Route symbols based on graphics from Central PA/MD Roads and Wikipedia. Map icons by MapGlyphs.com.