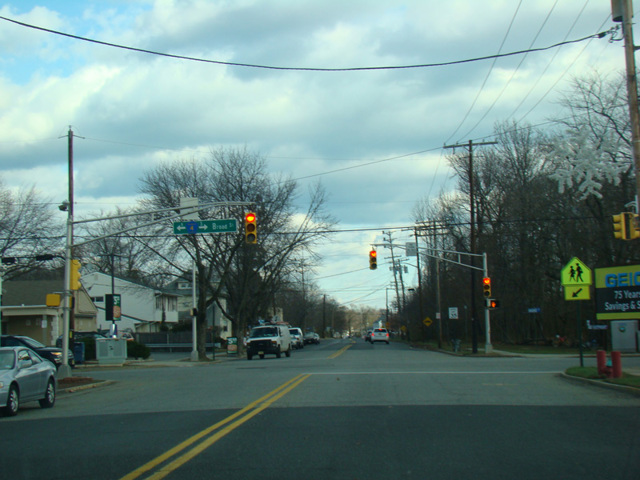 ---
Direction:

East/West

Western Terminus:

Old Bridge-Englishtown Road (CR 527) and NJ 18 in Old Bridge

Eastern Terminus:

NJ 36 in Atlantic Highlands

Distance:

19.27 miles

Counties:

Middlesex, Monmouth

Signed:

Yes
CR 516 is an east/west route located toward the northern end of the Jersey Shore. It begins at the interchange of Old Bridge-Englishtown Road (CR 527) and NJ 18 in Old Bridge and runs east as Old Bridge-Matawan Road. As it crosses into Monmouth County, it changes names to become New Brunswick Avenue. In Matawan, the eastbound and westbound lanes of CR 516 follow different routings, although neither is routed along a one-way street. Northbound traffic follows Broad Street, while southbound traffic follows Main Street. After about a mile, the two come together at a stop sign, and CR 516 continues northeast along Main Street, which changes names to become Lower Main Street and then Maple Place. At NJ 35, CR 516 leaves Maple Place to follow an overpass that crosses NJ 35 and leads to West 4th Street. After a couple of blocks, West 4th Street merges back into Maple Place on the other side of NJ 35.
Just before the end of Maple Place, CR 516 turns southeast onto Green Grove Avenue, which changes names to become Middle Road. CR 516 follows Middle Road east to Holmdel, where it turns south onto Laurel Avenue. It follows Laurel Avenue south for about half a mile to NJ 35. The two routes are multiplexed for a couple of blocks to the east, and then CR 516 splits off onto Cherry Tree Farm Road. After a little over a mile, Cherry Tree Farm Road curves toward the south and ends. CR 516 turns back east onto Leonardville Road, which it follows to NJ 36 in Atlantic Highlands.
---
Copyright © 2003-2021 by David Golub. All rights reserved. The author would like to thank William Roll for contributing photographs and LC for contributing documents to this web site. You may not reproduce any text or photographs on this web site without express permission from the author. Hotlinking of images from this site is strictly prohibited. Route symbols based on graphics from Central PA/MD Roads and Wikipedia. Map icons by MapGlyphs.com.