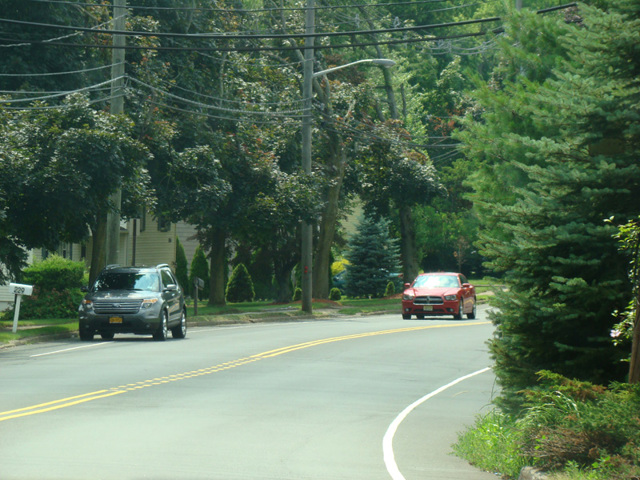 ---
Direction:

North/South

Southern Terminus:

North Avenue (NJ 28/Union CR 610) in Westfield

Northern Terminus:

North Straight Street (CR 504) in Paterson

Distance:

25.78 miles

Counties:

Union, Essex, Passaic

Signed:

Yes
CR 509 is a north/south route extending from Westfield to Paterson. It begins at the point in Westfield where NJ 28 and Union CR 610 switch places between North Avenue and South Avenue. The first section is East Broad Street, which runs northeast for about a mile to end at Springfield Avenue. CR 509 turns east onto Springfield Avenue. After about half a mile, Springfield Avenue turns to the south to become Union CR 615. CR 509 continues east along Kenilworth Boulevard. In Kenilworth, CR 509 crosses the Garden State Parkway (NJ 444) and changes names to become Galloping Hill Road, which curves to the south. CR 509 then turns onto Salem Road, which curves to the northeast and changes names in Hillside to become Liberty Avenue. Just north US 22, CR 509 turns west onto Hillside Avenue for a few blocks and then north onto Chestnut Avenue, which changes names to become Coit Street. After a few blocks, CR 509 turns onto Grove Street.
CR 509 follows Grove Street north to Bloomfield, where it turns northeast onto Watsessing Avenue and then northwest onto Franklin Street. After crossing the Garden State Parkway (NJ 444), Franklin Street ends at Broad Street. CR 509 follows Broad Street north to Clifton, crossing the NJ 3 and US 46 freeways. In Clifton, it crosses the parkway yet again and becomes Marshall Street. In Paterson, CR 509 turns east for one block onto Temple Plaza and then north onto Main Street. It then passes under the Bergen-Passaic Expressway (I-80). After about a mile, Main Street crosses the Passaic River. On the other side, CR 509 follows Presidential Boulevard and Holsman Street for a few blocks to its northern terminus at North Straight Street (CR 504).
---
Copyright © 2003-2021 by David Golub. All rights reserved. The author would like to thank William Roll for contributing photographs and LC for contributing documents to this web site. You may not reproduce any text or photographs on this web site without express permission from the author. Hotlinking of images from this site is strictly prohibited. Route symbols based on graphics from Central PA/MD Roads and Wikipedia. Map icons by MapGlyphs.com.