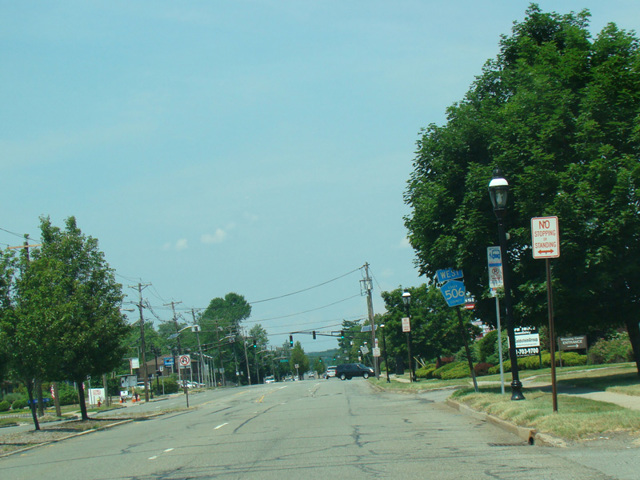 ---
Direction:

East/West

Western Terminus:

Bloomfield Avenue (NJ 159) and Oak Road (NJ 159) in Fairfield

Eastern Terminus:

McCarter Highway (NJ 21) in Belleville

Distance:

10.78 miles

Counties:

Essex

Signed:

Yes
CR 506 is an east/west route that runs diagonally from Fairfield to Belleville. It begins at this point where NJ 159 turns from Bloomfield Avenue onto Oak Road and follows Bloomfield Avenue southwest to Glen Ridge, where it turns north onto Highland Avenue for one block and then east onto Belleville Avenue. In Belleville, there is a traffic light at Washington Avenue, which is officially designated as part of NJ 7, even though motorists following NJ 7 don't turn onto Washington Avenue until one block to the north. CR 506 follows Washington Avenue for that one block and then turns east onto Rutgers Street, which is signed as part of NJ 7 but not officially designated as such. Yes, it's confusing. CR 506 follows Rutgers Street to the McCarter Highway (NJ 21), where it becomes Belleville Turnpike (NJ 7).
The section of Bloomfield Avenue beyond where CR 506 splits off from it is designated Spur CR 506 and runs southeast to Newark, where Spur CR 506 follows Broadway and Clay Street to end at the McCarter Highway (NJ 21).
---
Copyright © 2003-2021 by David Golub. All rights reserved. The author would like to thank William Roll for contributing photographs and LC for contributing documents to this web site. You may not reproduce any text or photographs on this web site without express permission from the author. Hotlinking of images from this site is strictly prohibited. Route symbols based on graphics from Central PA/MD Roads and Wikipedia. Map icons by MapGlyphs.com.