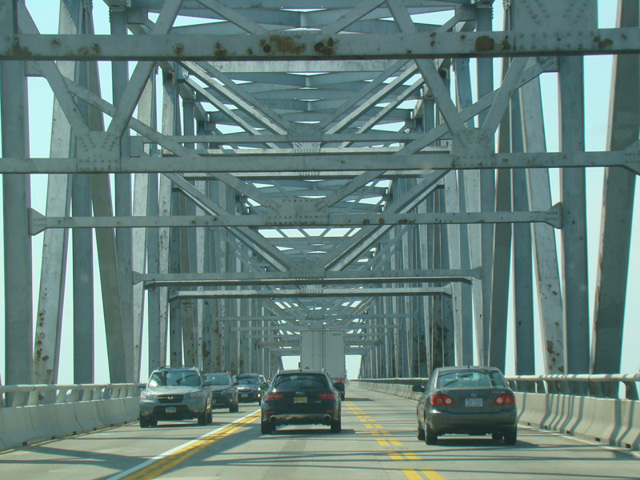 ---
Direction:

East/West

Western Terminus:

District of Columbia-Maryland state line

Eastern Terminus:

Baltimore Avenue (MD 378) and North Division Street (MD 290) in Ocean City

Distance:

140.50 miles

Counties:

Prince George's, Anne Arundel, Queen Anne's, Talbot, Dorchester, Wicomico, Worcester

Signed:

Yes
US 50 is a major east/west route crossing the country from West Sacramento, California, to Ocean City, Maryland. It enters Maryland from the District of Columbia and immediately becomes an expressway called the John Hanson Highway that runs east to Chesapeake Bay. The section of the John Hanson Highway between the Capital Beltway (I-95/I-495) and MD 70 is also designated as I-595, but this designation is unsigned. US 50 crosses the Bay Bridge, a long bridge over Chesapeake Bay, to the Eastern Shore of Maryland. There, the expressway ends and US 50 becomes a four-lane divided road with traffic lights and at-grade intersections called Ocean Gateway. It curves to the south and then to the east, going around Delaware to remain in Maryland. In the vicinity of Salisbury, US 50 becomes a semicircular expressway around the town called the Salisbury Bypass. US 13 multiplexes with US 50 after about a mile. After another mile, US 50 splits off to continue east as Ocean Gateway, while the Salisbury Bypass continues south as US 13. Ocean Gateway continues east to Ocean City, where it ends at Baltimore Avenue (MD 378) and North Division Street (MD 290) in Ocean City.
There is also a second section of US 50 in Maryland in the state's western panhandle where the route crosses over the border from West Virginia for a few miles before returning to West Virginia. The two sections in Maryland are connected by the sections in West Virginia, Virginia, and the District of Columbia.
---
Copyright © 2003-2021 by David Golub. All rights reserved. The author would like to thank William Roll for contributing photographs and LC for contributing documents to this web site. You may not reproduce any text or photographs on this web site without express permission from the author. Hotlinking of images from this site is strictly prohibited. Route symbols based on graphics from Central PA/MD Roads and Wikipedia. Map icons by MapGlyphs.com.