National Pike, Cumberland Street, Washington Avenue, West Washington Street, East Washington Street, Dual Highway, Baltimore National Pike, West Patrick Street, Frederick Freeway, Edmondson Avenue, Franklin Street, Mulberry Street, Orleans Street, Pulaski Highway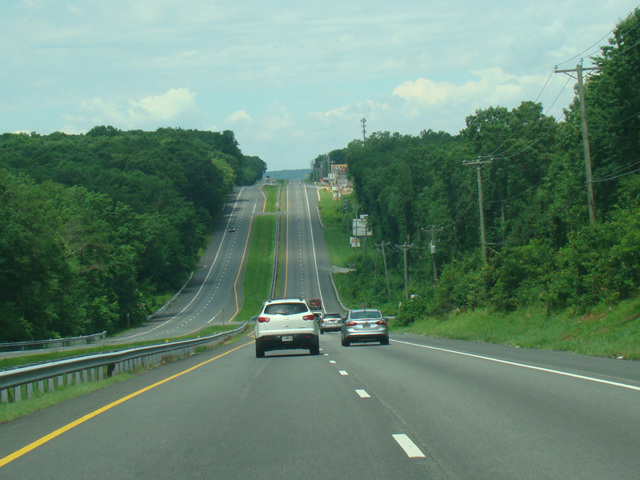 ---
Direction:

East/West

Western Terminus:

Pennsylvania-Maryland state line

Eastern Terminus:

Maryland-Delaware state line

Distance:

221.06 miles

Counties:

Garrett, Allegany, Washington, Frederick, Carroll, Howard, Baltimore, Harford, Cecil

Signed:

Yes
US 40 is a major east/west route running most of the way across the country from Park City, Utah, to Atlantic City, New Jersey. It enters Maryland from Pennsylvania in the westernmost reaches of the state, near the border with West Virginia. It follows National Pike southeast for a couple of miles to the National Freeway (I-68). It is multiplexed with I-68 to where it ends at I-70 in Hancock and then with I-70 for a few miles. Then, it splits off as National Pike again. In Hagerstown, National Pike changes names and US 40 follows Washington Avenue, West Washington Street, East Washington Street, and Dual Highway. Heading out of town, it becomes National Pike again.
In Frederick County, National Pike becomes Baltimore National Pike. In Frederick, Baltimore National Pike becomes West Patrick Street. After a short distance, there is an interchange with the Frederick Freeway (US 15). US 40 turns south onto the freeway, while West Patrick Street continues east as MD 144. After one exit, US 15 splits off and is multiplexed with US 340. The Frederick Freeway continues south to the interchange of I-70 and I-270, where it ends. US 40 follows I-70 east toward Baltimore, eventually splitting off onto the Baltimore National Pike again.
In Baltimore, Baltimore National Pike ends, merging into Edmondson Avenue. After a couple of miles, US 40 turns onto Franklin Street, which cuts diagonally southeast for a couple of blocks and then curves back to the east. After a few blocks, it splits into a pair of parallel one-way streets. Eastbound traffic follows Mulberry Street, while westbound traffic follows Franklin Street. Along part of this section, there is a short expressway between the two one-way streets. US 40 follows the expressway and then rejoins Franklin Street and Mulberry Street after it ends. A short distance beyond the end of the expressway, they come together to form Orleans Street.
Heading out of downtown, Orleans Street ends at Pulaski Highway, which becomes a four-lane divided highway near its interchange with the Harbor Tunnel Thruway (I-895). Pulaski Highway continues northeast, crossing the Susquehanna River via a toll bridge between Havre de Grace and Perryville. It eventually reaches the state line and continues into Delaware.
In the western areas of the state, US 40 has a signed alternate route between Grantsville and Cumberland and a signed scenic route between Flintstone and Little Orleans along the portions of National Pike bypassed by I-68.
---