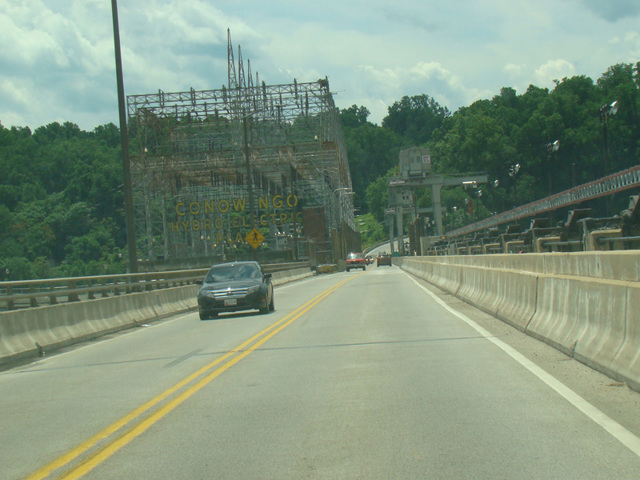 ---
Direction:

North/South

Southern Terminus:

District of Columbia-Maryland state line

Northern Terminus:

Maryland-Pennsylvania state line

Distance:

80.86 miles

Counties:

Prince George's, Howard, Baltimore, Harford, Cecil

Signed:

Yes
US 1 is a major route running from Key West in Florida to the Canadian border in Maine. Prior to the construction of I-95, it was the main route along the East Coast. It enters Maryland from the District of Columbia as Rhode Island Avenue, which merges into Baltimore Avenue after about a mile. US 1 follows Baltimore Avenue north to Laurel, where it splits into a pair of parallel one-way streets. Northbound traffic follows Second Street, while southbound traffic follows Washington Boulevard. After about a mile, the lanes come back together to form a four-lane Washington Boulevard. Just before entering Baltimore, US 1 turns north onto Southwestern Boulevard, while Washington Boulevard continues as Alternate US 1.
In Baltimore, Southwestern Boulevard merges with Wilkens Avenue (MD 372). US 1 follows Wilkens Avenue to the northeast until just before it ends and then turns onto a pair of parallel one-way streets. Northbound traffic follows Fulton Avenue, while southbound traffic follows Monroe Street. After about a mile, US 1 turns east onto North Avenue. After a couple of miles, it turns northeast onto Belair Road, which it follows out of the city.
In Bel Air, US 1 becomes the Bel Air Bypass, a four-lane divided highway with a mixture of traffic lights and grade-separated interchanges. It eventually changes names to become the Hickory Bypass. Then, the highway peters out, narrowing down to become a two-lane undivided road called Conowingo Road. US 1 follows Conowingo Road to the northeast, crossing the Susquehanna River via a bridge at the Conowingo Dam. It eventually reaches Rising Sun near the border with Pennsylvania, where it is known as the Rising Sun Bypass, still a two-lane undivided road. US 1 continues across the state line into Pennsylvania.
---
Copyright © 2003-2021 by David Golub. All rights reserved. The author would like to thank William Roll for contributing photographs and LC for contributing documents to this web site. You may not reproduce any text or photographs on this web site without express permission from the author. Hotlinking of images from this site is strictly prohibited. Route symbols based on graphics from Central PA/MD Roads and Wikipedia. Map icons by MapGlyphs.com.