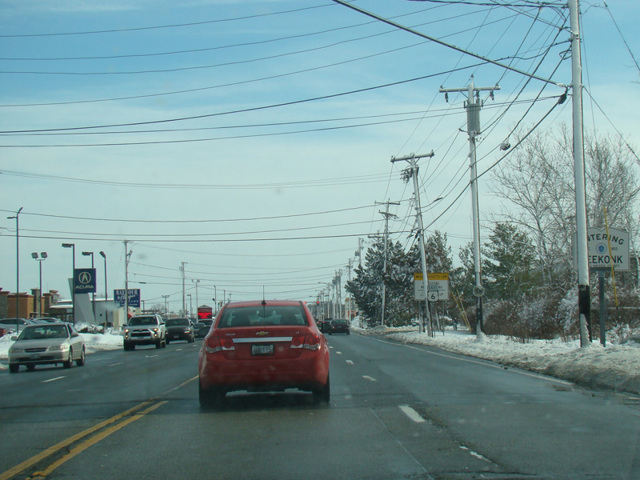 ---
Direction:

East/West

Western Terminus:

Rhode Island-Massachusetts state line

Eastern Terminus:

MA 6A and Province Lands Road in Provincetown

Distance:

118.10 miles

Counties:

Bristol, Plymouth, Barnstable

Signed:

Yes
US 6 is a major east/west route crossing the country from Bishop, California, to Provincetown, Massachusetts. It is one of the longest routes in the country, longer than any interstate highway. It enters Massachusetts from Rhode Island in Seekonk and follows Highland Avenue and Fall River Avenue to the east. It crosses the Taunton River to Fall River. On the other side of the bridge, it turns south onto Davol Street for a few blocks, then east onto President Avenue, then south onto North Eastern Avenue, which changes names to become Eastern Avenue. Just south of I-195, it turns east again onto Martine Street, which changes names to become State Road heading out of Fall River.
In New Bedford, US 6 splits into a pair of parallel one-way streets. Eastbound traffic follows Kempton Street, while westbound traffic follows Mill Street. After about half a mile, they come together to form a bridge heading out of New Bedford. On the other side of the bridge, US 6 is known as Huttleston Avenue and then changes names several times to become County Road, Marion Road, Mill Street, and then Wareham Road. In Wareham, US 6 turns south onto Main Street and then east again onto Sandwich Road. After about a mile, Sandwich Road merges with Cranberry Highway (MA 28). The two routes are multiplexed along Cranberry Highway and Buzzards Bay Bypass through Buzzards Bay.
At the eastern terminus of MA 25, MA 28 splits off from US 6 and crosses the Cape Cod Canal via the Bourne Bridge. US 6 follows Scenic Highway along the canal and then also crosses it to Cape Cod via the Sagamore Bridge. On the other side, US 6 becomes the Mid-Cape Highway, an expressway running east through Cape Cod. In Orleans, the highway peters out and US 6 becomes a surface road again, extending north to Provincetown, the most distant town on Cape Cod, where it finally ends.
---
Copyright © 2003-2021 by David Golub. All rights reserved. The author would like to thank William Roll for contributing photographs and LC for contributing documents to this web site. You may not reproduce any text or photographs on this web site without express permission from the author. Hotlinking of images from this site is strictly prohibited. Route symbols based on graphics from Central PA/MD Roads and Wikipedia. Map icons by MapGlyphs.com.