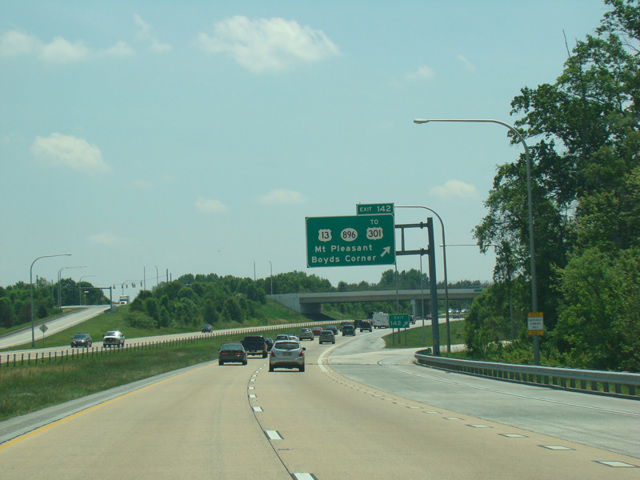 ---
Direction:

North/South

Southern Terminus:

Coastal Highway (MD 528) at the Maryland-Delaware state line

Northern Terminus:

Churchmans Road (DE 58) and Stanton Christiana Road (DE 4) in Newark

Distance:

103.02 miles

Counties:

Sussex, Kent, New Castle

Signed:

Yes
DE 1 is a major north/south route in Delaware. The northern half is an expressway that begins at Churchmans Road (DE 58) and Stanton Christiana Road (DE 4) in Newark, just north of the Delaware Turnpike (I-95), and runs south until a short distance past Dover. There are two toll barriers along the expressway. It has a rather unusual exit numbering scheme for a highway in the United States. The exit numbers are based on distance in kilometers, not miles.
After the expressway peters out, DE 1 continues south as a four-lane divided road called Bay Road that has a mixture of traffic lights and grade-separated interchanges. Bay Road ends at a grade-separated splits at the northern terminus of US 113. DE 1 curves to the southeast to become Milford Bypass. After a few miles, DE 1 crosses into Sussex County and changes names to become Coastal Highway, which runs southeast to the Atlantic Ocean and then south along the ocean to the border with Maryland, where it becomes MD 528.
---
Copyright © 2003-2021 by David Golub. All rights reserved. The author would like to thank William Roll for contributing photographs and LC for contributing documents to this web site. You may not reproduce any text or photographs on this web site without express permission from the author. Hotlinking of images from this site is strictly prohibited. Route symbols based on graphics from Central PA/MD Roads and Wikipedia. Map icons by MapGlyphs.com.