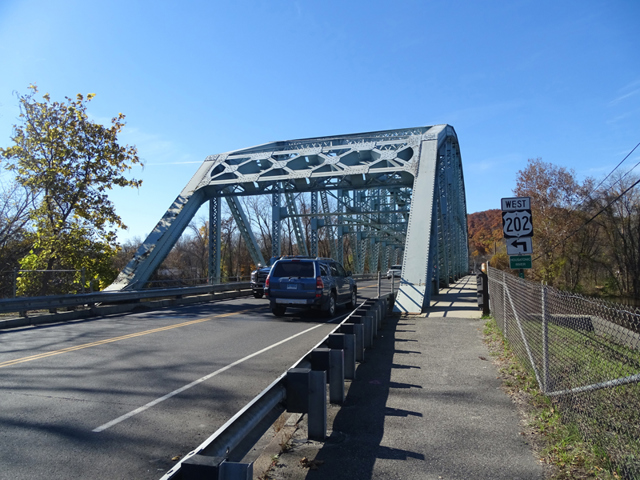 ---
Direction:

East/West

Western Terminus:

New York-Connecticut state line

Eastern Terminus:

Connecticut-Massachusetts state line

Distance:

75.14 miles

Counties:

Fairfield, Litchfield, Hartford

Signed:

Yes
US 202 extends from Wilmington, Delaware, to Bangor, Maine. It primarily passes through rural areas, avoiding major cities such as New York, Hartford, and Boston. It enters Connecticut from New York multiplexed with US 6. The first section is known as Mill Plain Road and runs parallel to and just north of the Yankee Expressway (I-84). After a couple of miles, there is an interchange, and US 6/US 202 joins I-84, which is also multiplexed with US 7 in the area. The four routes are multiplexed for a couple of exits, and then US 7 splits off to the north as an expressway. US 202 follows the US 7 expressway for one exit. It then splits off onto White Turkey Road, which it follows for one block to Federal Road, the surface road bypasses by the expressway. US 202 follows Federal Road north through Brookfield. After a few miles, the expressway ends, and US 7 rejoins US 202 along Federal Road.
In New Milford, Federal Road changes names to become Danbury Road. The US 7/US 202 multiplex continues for a few miles, and then US 202 splits off onto Bridge Street, crossing the Housatonic River on the Veterans Memorial Bridge. US 202 runs north, gradually curving to the east, through Litchfield and Torrington. Eventually, it reaches Canton, where it joins US 44. The two routes are multiplexed along Albany Turnpike to Avon, where US 202 splits off and turns north onto Simsbury Road (CT 10). US 202 and CT 10 are multiplexed along Simsbury Road, Hopmeadow Street, and Salmon Brook Street to the border with Massachusetts. US 202 continues across the state line, while CT 10 becomes MA 10.
---
Copyright © 2003-2021 by David Golub. All rights reserved. The author would like to thank William Roll for contributing photographs and LC for contributing documents to this web site. You may not reproduce any text or photographs on this web site without express permission from the author. Hotlinking of images from this site is strictly prohibited. Route symbols based on graphics from Central PA/MD Roads and Wikipedia. Map icons by MapGlyphs.com.