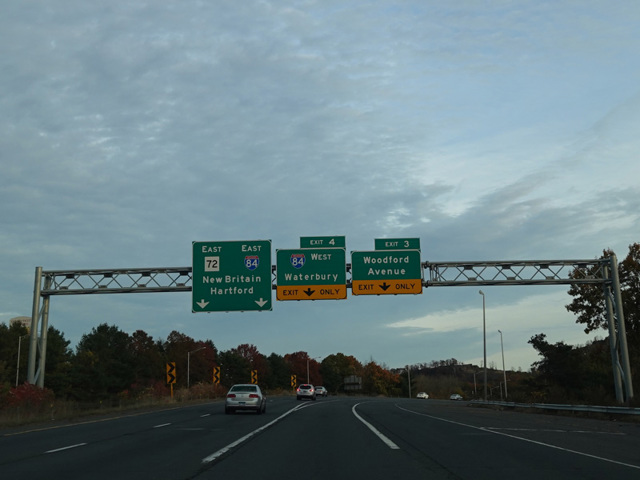 ---
Direction:

East/West

Western Terminus:

Burlington Road (CT 4) in Harwinton

Eastern Terminus:

CT 9 in New Britain

Distance:

20.10 miles

Counties:

Litchfield, Hartford

Signed:

Yes
CT 72 is an L-shaped route extending from Harwinton to New Britain. It begins at Burlington Road (CT 4) and runs south. Shortly after crossing Main Street (US 6) in Terryville, it curves to the east toward Bristol. It runs east through Bristol to Plainville, where it becomes an expressway. After a short distance, it joins the Yankee Expressway (I-84) before splitting off for about a mile to end at the CT 9 expressway.
Prior to the construction of the expressway section, CT 72 used to follow present-day CT 372 and CT 3 to end at Washington Street (CT 66) in Middletown. As a holdover from this old alignment, it is listed as a north/south route in state documents, although it is signed as an east/west route.
---
Copyright © 2003-2022 by David Golub. All rights reserved. The author would like to thank William Roll for contributing photographs and LC for contributing documents to this web site. You may not reproduce any text or photographs on this web site without express permission from the author. Hotlinking of images from this site is strictly prohibited. Route symbols based on graphics from Central PA/MD Roads and Wikipedia. Map icons by MapGlyphs.com.