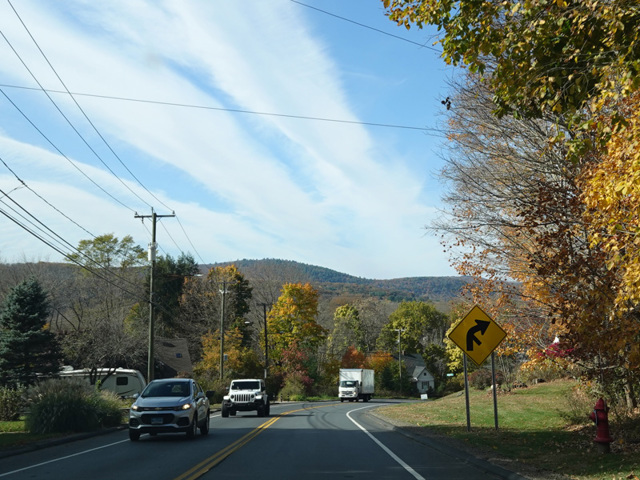 ---
Direction:

North/South

Southern Terminus:

Amity Road (CT 63) in Woodbridge

Northern Terminus:

Kent Road (US 7) and Danbury Road (US 7/US 202) in New Milford

Distance:

31.00 miles

Counties:

New Haven, Litchfield

Signed:

Yes
CT 67 is an north/south route running diagonally from Woodbridge in the suburbs of New Haven to New Milford in the Litchfield Hills. It begins at Amity Road (CT 63) in Woodbridge and runs west to Seymour, where it crosses the Naugatuck River and has an interchange with the CT 8 expressway. It then runs northwest to Southbury, where there is an interchange with the Yankee Expressway (I-84). US 6 is multiplexed with I-84 west of this point, but it splits off and multiplexes with CT 67 along Main Street North. After a short distance, CT 67 splits off onto Roxbury Road and continues northwest to New Milford. There, it joins US 202. The two routes are multiplexed along Bridge Street across the Housatonic River. On the other side of the bridge, CT 67 ends at US 7. US 202 is multiplexed with US 7 to the south along Danbury Road.
CT 67 is officially designated an east/west route in state documents, but it is signed mostly as a north/south route with some east/west signage mixed in near the termini.
---
Copyright © 2003-2022 by David Golub. All rights reserved. The author would like to thank William Roll for contributing photographs and LC for contributing documents to this web site. You may not reproduce any text or photographs on this web site without express permission from the author. Hotlinking of images from this site is strictly prohibited. Route symbols based on graphics from Central PA/MD Roads and Wikipedia. Map icons by MapGlyphs.com.