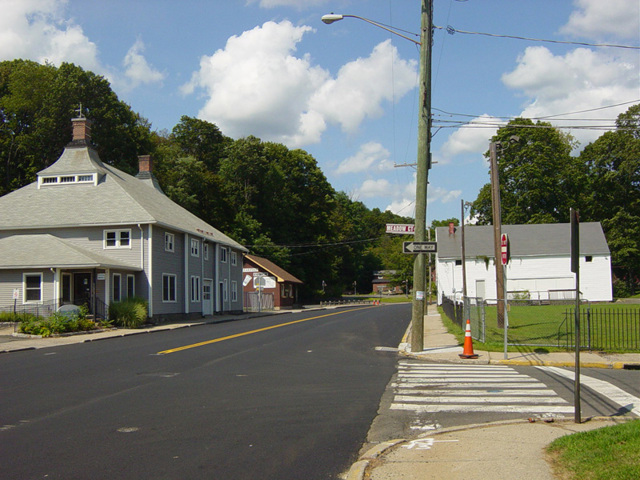 ---
Direction:

North/South

Southern Terminus:

Whalley Avenue (CT 10) and Fitch Street (CT 10) in New Haven

Northern Terminus:

South Canaan Road (US 7) in Canaan

Distance:

52.57 miles

Counties:

New Haven, Hartford, Litchfield

Signed:

Yes
CT 63 is a north/south route extending from New Haven to Canaan in the northwest corner of the state. It begins at the point where CT 10 turns from Whalley Avenue onto Fitch Street. CT 63 follows Whalley Avenue until just before its interchange with the Wilbur Cross Parkway (CT 15). There, Whalley Avenue splits off to become CT 69, while CT 63 continues to the north as Amity Road. In Bethany, Amity Road curves to the west and becomes New Haven Road. Amity Road runs west toward Naugatuck, where it curves to the north and becomes South Main Street. At an interchange with the CT 8 expressway, CT 63 leaves South Main Street and turns west again, crossing a bridge over the Naugatuck River. On the other side, it merges into Cherry Street. CT 63 changes names a few times as it passes through Naugatuck from Cherry Street to Meadow Street to Church Street.
Heading out of town, CT 63 becomes Straits Turnpike. It passes west of Waterbury, having an interchange with the Yankee Expressway (I-84). Straits Turnpike ends at Main Street, which is designated CT 73 to the south. CT 63 follows Main Street through Watertown. Heading out of town, it becomes Litchfield Road. It continues north and northwest through Litchfield and Goshen to eventually reach Canaan, where it ends at South Canaan Road (US 7).
---
Copyright © 2003-2022 by David Golub. All rights reserved. The author would like to thank William Roll for contributing photographs and LC for contributing documents to this web site. You may not reproduce any text or photographs on this web site without express permission from the author. Hotlinking of images from this site is strictly prohibited. Route symbols based on graphics from Central PA/MD Roads and Wikipedia. Map icons by MapGlyphs.com.