Cornwall Bridge Road, Furnace Brook Road, Cemetery Hill Road, Bunker Hill Road, Sharon Turnpike, Torrington Road, Goshen Road, Migeon Avenue, North Elm Street, East Elm Street, East Main Street, New Harwinton Road, Birge Park Road, Litchfield Road, Burlington Road, Spielman Highway, Canton Road, Collinsville Road, Main Street, Farmington Avenue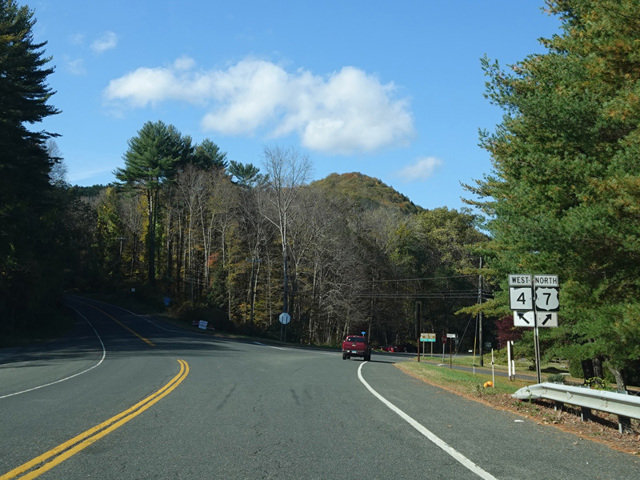 ---
Direction:

East/West

Western Terminus:

Amenia Road (CT 343) and South Main Street (CT 41) in Sharon

Eastern Terminus:

Boulevard and Old Mill Lane in West Hartford

Distance:

46.72 miles

Counties:

Litchfield, Hartford

Signed:

Yes
CT 4 is an east/west route in the northwestern region of Connecticut. It begins in Sharon, where Amenia Road (CT 343) becomes Cornwall Bridge Road upon crossing South Main Street (CT 41). Cornwall Bridge Road runs east to Cornwall Bridge, where CT 4 is multiplexed with US 7 across a bridge over the Housatonic River. On the other side of the bridge, the two routes split. CT 4 follows Furnace Brook Road northeast to West Cornwall, where it changes names at the southern terminus of Grange Hall Road (CT 125) to become Cemetery Hill Road. After about a mile, Cemetery Hill Road ends at the southern terminus of Sharon-Goshen Turnpike (CT 128) and Cornwall Hollow Road (CT 43). CT 4 turns southeast onto Bunker Hill Road, which becomes Sharon Turnpike.
In Goshen, Sharon Turnpike ends at a traffic circle at CT 63. CT 4 continues on the other side as Torrington Road, which changes names several times to become Goshen Road, then Migeon Avenue, then North Elm Street, then East Elm Street. In Torrington, there is an interchange with the CT 8 expressway, and then East Elm Street ends at East Main Street (US 202). The two routes are multiplexed for a couple of blocks, and then CT 4 turns off onto New Harwinton Road, which gradually curves to the south and becomes Birge Park Road, which ends at Litchfield Road in Harwinton. CT 4 turns east onto Litchfield Road, which is designated CT 118 to the west. Litchfield Road becomes Burlington Road and then Spielman Highway, which ends at Canton Road in Burlington. CT 4 turns south onto Canton Road, which is designated CT 179 to the north. Canton Road runs to the southeast, changing names to become Collinsville Road, then Main Street, and then Farmington Avenue. It runs next to the Farmington River and crosses it in Unionville. In Farmington, there is a connection from Farmington Avenue to exit 39 of the Yankee Expressway (I-84) via a short connector that is designated SR 508. Farmington Avenue then runs northeast to West Hartford, where it loses the CT 4 designation at its intersection with Boulevard and Old Mill Lane. Farmington Avenue continues east as a local street into Hartford.
According to a 1963 map from Dutchess County, CT 4 once extended west along what's now CT 343 to the New York border, where what's now the section of NY 343 east of NY 22 was then designated NY 4.
---