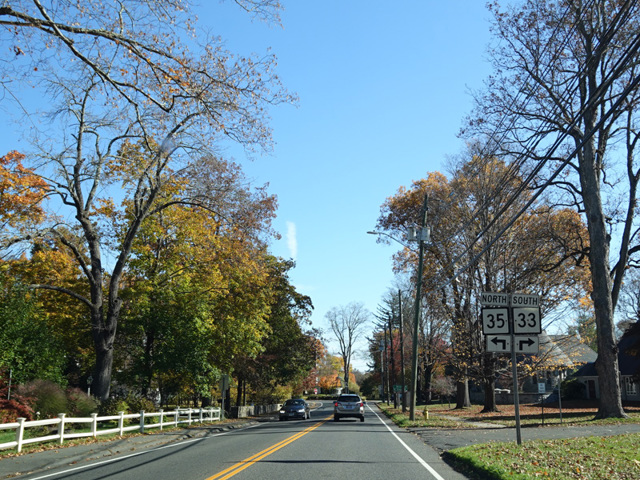 ---
Direction:

North/South

Southern Terminus:

Old Post Road (NY 35) at the New York-Connecticut state line

Northern Terminus:

Ethan Allen Highway (US 7) in Ridgefield

Distance:

5.66 miles

Counties:

Fairfield

Signed:

Yes
CT 35 is a short extension of NY 35 into Connecticut. The road changes names from Old Post Road to South Salem Road upon crossing the state line. After about a mile, South Salem Road ends at West Lane, which is designated SR 835 southwest of this point. West Lane continues east for about half a mile and then ends at the northern terminus of Wilton Road West (CT 33). CT 35 turns north onto Main Street, which runs through the downtown area of Ridgefield. Heading out of town, CT 35 turns northeast onto Danbury Road, while Main Street continue north as CT 116. It runs northeast for a couple of miles to end at US 7.
CT 35 is signed as a north/south route, which is slightly confusing because NY 35 is an east/west route, and CT 35 does as much east and west as north and south.
---
Copyright © 2003-2021 by David Golub. All rights reserved. The author would like to thank William Roll for contributing photographs and LC for contributing documents to this web site. You may not reproduce any text or photographs on this web site without express permission from the author. Hotlinking of images from this site is strictly prohibited. Route symbols based on graphics from Central PA/MD Roads and Wikipedia. Map icons by MapGlyphs.com.