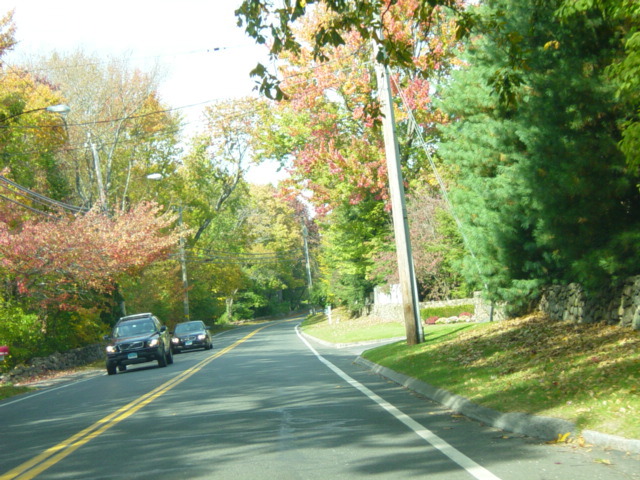 ---
Direction:

North/South

Southern Terminus:

Boston Post Road (US 1) in Darien

Northern Terminus:

New York-Connecticut state line

Distance:

9.41 miles

Counties:

Fairfield

Signed:

Yes
CT 124 is a north/south routes through Darien and New Canaan in western Connecticut. It begins at Boston Post Road (US 1), just north of the Connecticut Turnpike (I-95), and runs north. It ends at the New York-Connecticut state line. The entire length is a two-lane undivided road with traffic lights. CT 124 is multiplexed with CT 106 for a short distance in New Canaan.
At the New York border, CT 124 becomes Westchester Avenue, which was designated NY 137A as of 1943. It was renumbered NY 394 by 1950 and then later decommissioned. Today, Westchester Avenue exists as an unnumbered road from CT 124 at the state line to High Ridge Road (NY 137) in Pound Ridge.
---
Copyright © 2003-2022 by David Golub. All rights reserved. The author would like to thank William Roll for contributing photographs and LC for contributing documents to this web site. You may not reproduce any text or photographs on this web site without express permission from the author. Hotlinking of images from this site is strictly prohibited. Route symbols based on graphics from Central PA/MD Roads and Wikipedia. Map icons by MapGlyphs.com.